As much as you'd like your employees to leave personal issues at home and give 110% in the workplace, it's easier said than done. This request becomes even more unrealistic when the two are linked, like problems with employee financial wellness. Employers who wish to improve their company culture, morale, and productivity must address these types of issues. And, it's not as simple as telling workers to forget their worries. Discover the real, quantifiable effects of financial stress on employees and help ease concerns with the strategies below.
How Financial Wellness Affects Employees
Someone's financial situation influences much more than their bank statement. Studies show that monetary issues cause severe stress, anxiety, and depression. It can even weaken your immune system and impair your decision-making. This is especially concerning when you consider that an estimated two-thirds of Americans experience financial stress. Employers must recognize this issue and reduce the negative impact on their employees' physical and mental health.
How It Impacts Your Business
The COVID-19 pandemic prompted a comprehensive study by PwC that yielded some shocking statistics about employee financial wellness. For instance, 45% of workers dealing with financial challenges reported being distracted in the workplace, and 72% said they would leave their jobs for another company that cared more about their financial well-being. Plus, since the stress weakens their immune systems, it's more likely for people to get sick and need to take time off unexpectedly. Improving the financial wellness of employees benefits your business by potentially boosting productivity, increasing retention, and avoiding the costs of turnover. It may even help with applicant flow if job seekers see that your company values its workers.
How to Fortify Their Finances
There are various employee financial wellness programs and initiatives that you should consider implementing at your company if you haven't already done so. One idea is to raise wages for hourly workers like McDonald's and other fast-food restaurants have done. You can also boost morale and put some extra money in people's pockets when they need it most by giving workers holiday bonuses. Additional employee benefits can include financial education, access to financial advisors, and even tuition reimbursement. 
Discover More Employee Retention Strategies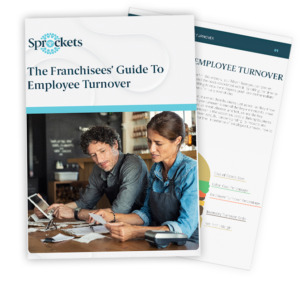 There are several reasons why financial wellness is a must-have employee benefit, including the positive impact it can have on retention. That means less time and money spent on the hiring process. If you'd like to learn more ways to improve employee retention, then make sure you check out The Franchisees' Guide to Employee Turnover! You'll discover the hidden effects of turnover, common causes, and proven strategies to conquer this costly problem.