It's inevitable for employees to leave workplaces, whether it's for them to pursue another opportunity or their manager decided to let them go. However, when influential employees leave, the remaining team members may get frustrated about the situation or worry about their own position. These negative emotions might lead to low morale and reduced productivity. Leaders must then apply their skills to rejuvenate the workplace culture and positive atmosphere.
8 Ways to Boost Morale and Motivation in the Workplace
If you're a manager, especially in the QSR or home health care industries, you likely deal with a high rate of employee turnover. Therefore, it's crucial to know how to rebuild team morale after an employee — or several — employees leave, whether voluntarily or involuntarily.
Here are some strategies to maintain morale in the workplace after employees leave:
1. Re-Affirm the Team's Vision and Goals
When employees leave their workplace, some rumbling in the workplace might occur as the remaining workforce might wonder about the future of the business. The remaining labor force needs reassurance that the company will still meet its long-term goals and be successful. Remind the team about the company's vision and the significant roles they all play in that.
2. Be Open and Transparent
If you decide to let employees go, the remaining team members might wonder why you came to such a decision. In most situations, it is alright to provide an explanation and invite any questions or concerns your employees might have. This can put them at ease about their job security and workplace environment. 
(When informing the team about the reasons for termination, ensure that the engagement is a one-on-one meeting with open-ended questions. However, you might not be able to share all the contract's termination details due to legal requirements in the state.)
3. Praise Employees for Their Contributions
The remaining team needs to be made feel appreciated for their contributions toward meeting the company's short-term and long-term goals. As you commend their work, you need to put it appropriately for them to see the sincerity in the appreciation. Some people give their best in every team, and they need recognition through awards or recognition. Such credit will create a humane picture in the remaining employees' minds, and they will remain focused on meeting the company's goals.
4. Treat Laid-Off Employees With Respect and Dignity
If you have to terminate an employee for any reason, make sure you follow the due process and do so respectfully. If you handle a firing or layoff poorly, the ill-treatment will only create resentment within the remaining labor force. The remaining labor force will be less disgruntled if their former colleagues get treatment full of respect and dignity even as they leave.
5. Lighten Workers' Mood
Buying free lunch or morning coffee for the remaining staff may improve the workplace's mood. The company may also opt to take the workers for a trip or a social outing. During the event, the management should freely interact with the remaining employees. It might be a good opportunity to communicate why the decision was necessary and the next step the team will take to reach their goals together.
6. Emphasize Work-Life Balance
Management should create time for the employees to enjoy their social life with their families to increase their morale and prevent burnout. The administration can promote work-life balance by coming up with flexible schedules and remote working opportunities. Management should also avoid engaging workers while they are outside the workplace.
7. Organize Team-Building Activities
One of the most common ways to create a positive relationship between managers and their teams is to schedule team-building activities. Team-building creates collaborative cultures among teams, which is necessary after a significant layoff at work. If you are looking towards maintaining morale in the workplace after employees leave, a team-building initiative is one of the approaches to adopt.
8. Address the Workload Burden
Whenever workers leave, there is an unallocated workload that will have to be shared by the remaining staff if there is no immediate replacement. Adding extra work could cause resentment. If you are firing some employees, consider having them replaced as soon as possible. If the workload is to be re-distributed to the remaining workforce, consider informing them positively. You might want to consider even adding something to their paycheck.
Improve Retention and Team Morale With Sprockets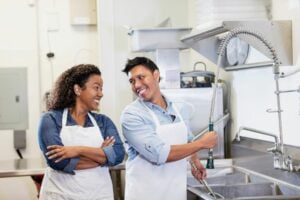 One of the best ways to avoid the reduced morale associated with employee turnover is to hire the right applicants in the first place. Sprockets' AI-powered solution predicts an applicant's likelihood to succeed like your current top-performers, fit well with the existing team, and stay long-term. Users experience a 43% improvement in retention, on average!
Schedule a brief demo today to see how it works and start building the ideal team. You'll save valuable time and money during the recruitment process and see an increase in overall productivity.