A strategic recruitment plan is essential for streamlining your hiring process and ensuring that you have access to top talent. When done incorrectly, recruitment efforts can attract job applicants who are unqualified for the positions you intend to fill, wasting valuable time and resources. To ensure that you hire the right people, you need to evaluate your existing strategies and update them to strengthen your recruitment plan. Here is what you should know about designing an effective recruitment plan.
Your Recruitment Plan Strategy
1.    Establish Recruitment Objectives
Your initial step should be to establish distinct goals for your recruitment process. One of the critical factors in talent acquisition is differentiating between expectations and reality. Specify what the company is trying to achieve and how hiring plays a part in reaching that goal. Clarify the number of positions that must be filled, the recruitment deadlines, and the type of qualifications to look for in applicants.
2.    Carry Out a Skills Gap Analysis
A skills gap analysis is essential to ensure that your current staff meets the demands of your business model. You need to know whether the existing employees can effectively perform their roles. Establishing this will also create opportunities for improvement and highlight specific qualities that should be assessed during the recruitment process. If there is a significant skills gap in the current staff, then it means that you need to supplement the workforce with some fresh faces with the desired skills and ability to meet demands.
3.    Set Your Ideal Timeline
After a successful analysis, it's time to put your findings into practice. You now need to estimate the number of required employees in every department and determine when they are needed. With this crucial information, you'll be able to build a full recruitment schedule for the entire year. The recruitment plan should include the positions you need to hire for per quarter, the number of employees for each department, and precise hiring timelines.
4.    Identify the Tools and Software Required for Recruitment
At this point, you should identify the tools required to carry out the hiring process. You may need to think about getting a virtual recruiter to help you execute your plan. A virtual recruiter can help you attract top talent, communicate with potential new hires, re-engage past applicants, and improve employee retention. Using a virtual recruiter will also help you reduce the application response time and increase the applicant flow. 
Applicant matching software would also be a great resource to execute your recruitment plan. By utilizing this software, you can create a unique success profile based on your current top-performing employees. There are many other benefits of an applicant matching software, such as reduced employee turnover, increased productivity, reduced training time, enhanced customer experience, and higher ROI. 
5.    Set up a Recruitment Budget
A recruitment budget sets parameters on everything from the job boards you intend to use to the sourcing methods and interview techniques. You should invest enough time to set the budget with other company leaders. Then, review the budget for each open position with the entire hiring team. This ensures that your recruitment process doesn't run above the estimated costs.
6.    Revamp Your Hiring Process
Continuously review your recruitment plans and hiring approaches to determine their effectiveness. Evaluate details such as collaboration among team members, the number of new hires, and employee turnover rate. Then, see what improvements you can make to your recruitment policy.  
This evaluation will help you to understand how past recruitment processes were undertaken and if there are any necessary changes. You can use survey tools, feedback forms, and a one-on-one approach to gather information. You will be able to identify some missteps and set the right tone for job seekers. If you find pitfalls that need to be addressed, you should immediately look into them and get things right before the next recruitment process kicks in. 
Hire the Ideal Applicants With Sprockets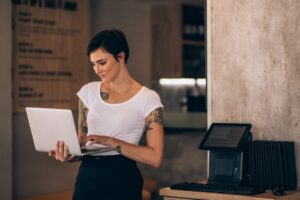 Having a well-designed, proactive recruitment plan helps your organization stay competitive and keep up with industry trends. Utilizing special tools such as Sprockets' virtual recruiter helps carry the weight as well. Sprockets' AI-powered virtual recruiter enables you to hire the ideal applicants, reduce employee turnover, and help employee retention.
Schedule a demo today to learn how Sprockets can streamline your hiring process.