Article Takeaways
Professional sports teams and corporations use similar methods for prospecting talent and player selection. Consequently, they both fail with huge financial consequences.

Traditional assessments and probing interviews do not effectively predict the probability that a prospect will succeed on their team.

An organization must look beyond 'skills' if they want to be successful.
Every year, 32 NFL teams have seven rounds to select the best 254 players in college football. Despite having overwhelming amounts of player data, coaching references, and game film, organizations with a $155 million annual salary-cap still struggle to draft the right players.
Similarly, companies in the United States spend billions of dollars per year on hiring with little success. 46% of all new hires fail. 31% fail in the first 30 days. The current hiring process is time-intensive, biased, expensive, and inefficient.
Misconceptions
There's a misconception that the most physically gifted athletes will become the highest performing. Scouts religiously review the prospects' 40 Yard Dash, Long Jump, Bench Press, and 60-yard shuttle. These metrics are easily captured but oftentimes overused. Tom Brady failed these tests in historic fashion in 2002. Because of this, he fell to the 199th pick in the draft. Eighteen years later he is now widely considered to be the greatest football player of all time.
80% of employee turnover is due to bad hiring decisions. When hiring managers select candidates solely on factors like education and skillsets, they are surrendering to a candidate's self-reporting and ignoring how the candidate will 'fit' within their culture resulting in bad hires and future turnover.
What makes Tom Brady "the goat" is not his physicality. It's his mental makeup. The way he thinks. The way he computes information. His wants, values. and personality.
The single most important factor to a candidate's success is their mental makeup. If they do not have what it takes to flourish in your unique culture, they'll likely either leave or become a bottom performer. When their core values, needs, and personality traits fit your corporate mission, they will become a positive contributor, love coming to work every day, and become more successful.
The next dynasty will belong to the team that can quantify and weaponize the "mental side of the game".
Companies that quantify and weaponize "mental makeup" will experience less turnover, more engaged workforces, and better hires.
Tools for Assessing Prospects
Today, NFL teams do not use the proper tools to measure a prospect's mental makeup and subsequently draft the wrong players. The most common and broadcasted way that an NFL team measures "between the ears" is the Wonderlic test. Although designed to help teams better understand the IQ of athletes, there doesn't appear to be a correlation between an individual's score and their performance in the NFL. Below are a few notable quarterbacks.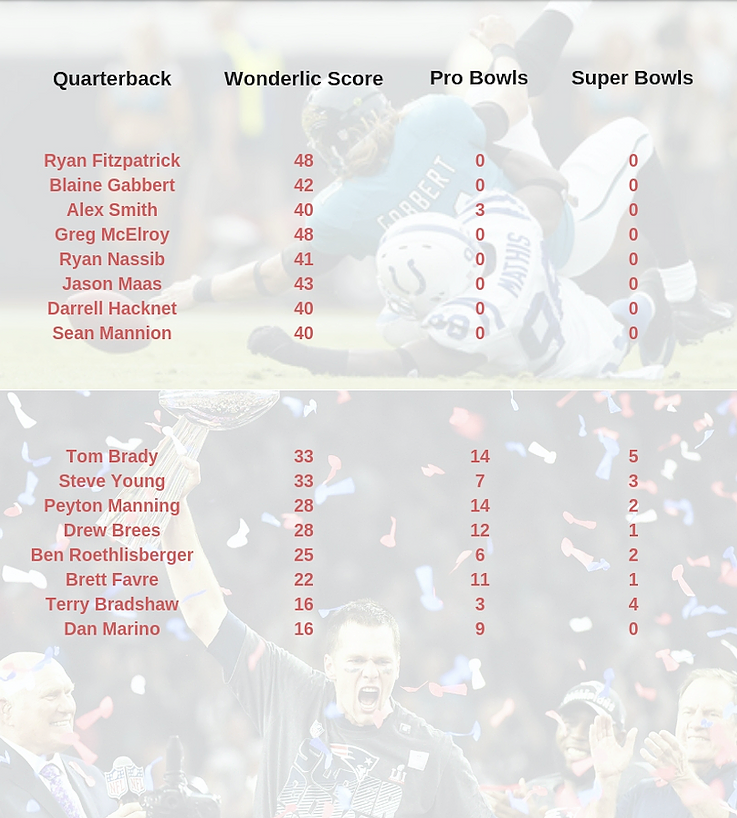 Wonderlic does not officially release these results but they are routinely leaked and can be found here.
As seen in the chart, there is no correlation between an individual's high Wonderlic score and the success as an NFL quarterback. A high score or a low score may be an indication into the quarterback's IQ, but it does not provide any valuable information as to future performance or success.
Personality assessments today presume to know what it takes to be successful by reporting numerical scales and personality types. Although filled with psychological cookie-cutter paragraphs and graphs, the reports do not yield any predictive or tailored data to predict a candidate's success within your organization. They overgeneralize position requirements and produce reports that all salespeople, as an example, share personality traits from company to company and industry to industry. What we know to a mathematical certainty is that every culture is different. Every job is different. Every position has different responsibilities with equally different pressures and success requirements. Does a used car salesman have the same mental makeup as someone who sells nonprofit software? No.
Current Interview and Assessment Questions
Every year, the top college prospects are invited to the NFL combine. This is oftentimes the first time NFL teams meet and interview prospects. Instead of administering predictive personality assessments, many scouts opt to spend their time asking unconventional questions.
Obum Gwacham was asked, "When did you lose your virginity?"

Austin Lane was asked, "Would you use a gun or knife to murder someone?"

Willie Beavers was asked, "Would you rather be a cat or dog?"

Dane Brugler reported that a prospect was asked, "Do you find your mother attractive?"
It's difficult to gather useful information and data from questions like that. Many coaches may claim that the answers are telling of personality, but there is little to no scientific backing supporting said claims.
When not done properly, interviews can be misleading, biased, and time-consuming. 33% of hiring managers claim "they know" if they will hire someone within 90 seconds.
Hiring managers draw much of their conclusions before an interview begins. 26% of candidates get rejected because of a bad handshake. 33% because of bad posture. 38% because of lack of smiles. 55% because of "the way they walked through the door". "70%" because of trendy clothes.
Companies like Google and Facebook ask notoriously strange questions, but there's no data to suggest that any set of questions are indicators of success.
Simply put, current personality tests and probing interviews do not effectively measure the likelihood that a prospect will become an NFL star rendering them completely useless.
This is true for businesses as well. Current personality tests and probing interviews do not effectively measure the likelihood that a prospect will become a successful employee at your company rendering them completely useless.
---
At Sprockets, we help organizations recruit great people by determining the mental makeup of the highest performing people, discovering what they have in common, and using that as a benchmark for all future prospecting. We combine 80 years of scientific research with cutting edge artificial intelligence to provide assessments that predict performance and success. Although today we focus on helping companies,
we got our start in sports
.