As a business owner or operator, you are bound to face underperforming employees at one point or another. Either they are not providing the output required by their position, or there is a significant decrease in the quality of their work. But, while underperformance might be considered natural with the ebb and flow of a business, it can affect other workers if not handled quickly, ultimately undermining the performance of your whole organization.
There are a number of proven strategies for managing underperforming employees. Having a formal process will help manage this without the risk of breaching any employment contract or registration. Let's take a look at how you can accomplish this.
Characteristics of an Underperforming Employee
Your first move should be to identify the underperforming employee.
An underperforming employee is typically one who:
        Consistently fails to meet deadlines

        Has a poor record of quality in their work

        Displays laziness when it comes to task execution

        Provides poor customer service
Therefore, take a look at your team members and ask yourself which ones exhibit the above traits. You can do this by merely observing them or using information from their performance reports.
How Do You Inspire an Underperforming Employee?
Now that you've discovered who the "weak links" are, your next move is to help them get back on track, right? Well, it is important to first understand the cause of the underperformance. You can then come up with an appropriate plan of action.
What Is Causing the Underperformance?
In some cases, you'll find the reason behind the underperformance is beyond the employee's control. For instance, the employee might not be performing simply because they don't fully understand what is expected of them or they lack sufficient training.
Start by asking the following questions:
        Does the employee have the essential skills needed for the job?

        Does the employee fully know what is expected for their role?

        Did the company give the employee enough training before starting the job?

        Is it possible that their workload is too high?

        Could the employee be facing personal issues that hinder them from doing their job?

        Is there effective communication between the employee and management?

        Is there a motivation issue, like the employee wanting recognition or a promotion?
Most of these cases can be solved with a bit of training or improvement in communication. As an employer, it is your duty to ensure that the employees have all the tools necessary to accomplish the task at hand.
Tips for Managing Underperforming Employees
Here are a few steps you can take to handle the underperformance issues:
1. Active Listening
The only way you can identify what is really causing the underperformance is by actively listening to the employee. For best results, you want to use a friendly, informal approach. Employees feel motivated when they know that management is keen to listen to them without bias.
Start by asking how the employee is doing and whether something is bothering them. Remain neutral and empathetic, looking at the situation from their side. You can also involve their line manager or supervisor in the chat. Since they already have a working relationship, it might be easier talking through them. Finally, end the conversation with a note for improvement. Encourage the employee that they are free to voice their concerns whenever they want.
2. Consistent Feedback
Constructive criticism has been proven to encourage employees to perform well while making them feel fulfilled. It helps them know where they are doing well and which areas still need improvement.
The key here is to do it regularly. During the time, make sure you let the employee voice their opinions or concerns.
3. Personalized Training
If you discover that the underperformance is due to insufficient training, your best move would be to offer personalized training while tracking changes in performance. Teaching some underrated skills, such as soft skills in presentation and communication, can go a long way in improving employee morale and performance.
Once you identify where they fall short, focus on addressing those specific weaknesses. This should help solve the problem.
4. Clear Expectations
Ensure that the employee knows the objectives that they are expected to meet so they can actively work towards achieving them. By the end of the chat, they should have a holistic understanding of where they fit in the organization as well as how their contribution impacts the organization.
5. Performance Goals
Next up is to lay out the performance goals together with the employee. The trick is to use techniques like SMART. This means the performance indicators should be Specific, Measurable, Achievable, Relevant, and Timely.
It is crucial that you involve the employee in setting their own goals. This way, they'll be more committed to achieving the goal.
6. Effective Recruitment
Often, you'll find underperformance tracing back to the onboarding process.  Either the employee's skills were not matched to the role assigned when hiring, or they were not clearly told what is expected of them. In this case, you'll need to restructure your recruitment or onboarding process.
When recruiting, always check that the employee has the required skills. Ultimately, this will result in a quality team of workers.
7. "Silent" Aide
Sometimes, assigning a "silent" aide to the underperforming employee may be the best solution. This can be in the form of an employee who is in the same department that can help mentor them. Just keep in mind that the aide should still be able to execute their own role without distraction.
8. Recognition
The reason for underperformance can also be because the employee gets no incentives or rewards for a job well done. Naturally, the employee feels unappreciated and gradually stops making any effort. You can solve this by setting up a recognition program to keep your employees motivated to do better.
9. Disciplinary Action
It is important to follow up with a second meeting to review their performance. Here is where you go over the previously set goals and give respective feedback. If the employee is still unwilling to improve, then disciplinary action can be taken. This can be through a formal warning or even termination of employment. Of course, this has to follow the guidelines set in the company's policy. Always keep a written record of the discussions that you have with the employee in case the information is required in the future.
10. Predict Applicant Success With Sprockets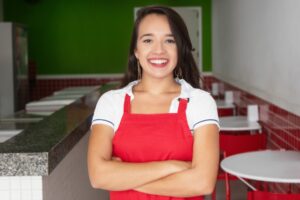 Sometimes the cause of an underperforming employee could be due to them not having the right company fit. If that's the case for some underperforming employees, let Sprockets AI-powered platform assist in the hiring quality of your future talent. Our applicant matching software is used to find applicants based on the top-performing employees in your company and reduce employee turnover. Improving your hiring process today won't only save you time, but also save your company money in the long run. Schedule a demo today to learn more!