Sprockets users can now enjoy free job posting on Snagajob, ZipRecruiter, Adzuna, Upward, and more! Avoid the fees that job sites typically charge while still attracting top talent for your team. You'll spend less time and money on the hiring process, allowing you to focus more on the daily operations of your business.
Reach 6 Million Monthly Job Seekers
Simply create the job listings within your Sprockets dashboard and push it live to millions of job seekers on Snagajob, ZipRecruiter, Adzuna, Upward, and more with the click of a button. You don't need to worry about creating separate accounts or paying any additional fees. It's a quick, convenient way to advertise your employment opportunities to qualified applicants.
Improve Retention by 43%
The applicants will automatically appear in your Sprockets dashboard along with their respective fit scores, predicting who will perform like your best employees. You'll instantly be able to identify who is worth interviewing and will contribute to the success of your business. Users report a 43% improvement in 90-day employee retention, on average!
Join the List of Satisfied Customers
We know Sprockets' AI-powered software is the solution for your hiring needs, but you don't need to take our word for it. There are numerous happy customers who love to share their thoughts on Sprockets. Here's what one user had to say:
"Sprockets has allowed us to focus on the people who have the right characteristics, the right personality, [and] the right traits, and we don't waste as much time on those that aren't qualified anymore."
– Ken Cope
Home Instead Franchise Owner
Start Posting Job for Free Through Sprockets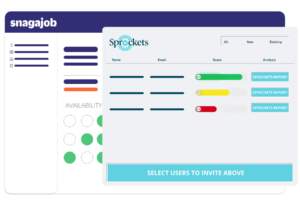 Don't wait any longer to improve your hiring process and reduce costly employee turnover. Our team is ready to set you up for success with the Sprockets platform, empowering you to reach millions of job seekers for free and build the best team for your business. Schedule a brief demo today to get started!