While it is understandable that one would prefer to work with an employee who already understands industry jargon, is familiar with the proper tools, and has a grasp on what the job entails, these hiring criteria might only benefit you in the more senior positions. However, when trying to fill hourly or even entry-level positions, hiring candidates with no industry experience might lead to a better quality hire in the long run. 
When faced with a mountain of resumes, it makes sense to focus on candidates with a proven record in the industry. However, multiple reports, such as this one by Glassdoor, say that this might not always be the case. You might actually end up missing out on the ideal applicants. Below, we discuss five important reasons why you should pick potential over experience:
5 Reasons to Hire Applicants With No Industry Experience
1. They Are Adaptable: Newbies are moldable, unlike someone who has done the same tasks and solved the same issues in a different organization. An experienced person will not question or examine strategies, status quos, or processes with fresh eyes. They tend to be cookie-cutters who follow the same standard procedure that they've always used.
Currently, all industries are facing uncertainty. There has never been a time when organizations needed change or coping skills as much as they do now. Unfortunately, an employee who has spent a significant amount of time fixated on the same role, facing similar challenges and using the same thought process to come to solutions, will need intense training to re-imagine or rethink a task. Choosing to bring new and unexplored talent — people who have yet to develop habits and routine practices — will present you with employees who respond positively to changes, adapt seamlessly to new company culture, and seek new solutions and opportunities.
2. They Bring Fresh Talent and Perspectives: While experience is valuable, companies are now more focused on diversifying their culture and hiring employees with a wide range of skills. Culture is ever-changing, and the younger generation is at the forefront of it. Hiring fresh talent will introduce new ideas and perspectives that align with the current market trends and expectations. People who've done the same or similar jobs over and over tend to fall into a mental rut. Similarly, your interviews will be more enlightening and exciting. Not only will you grow in the process of hiring newcomers in your industry, but you might land the brilliant, energetic employee you always wished for.
3. They Are Passionate: When you're accustomed to the same routine and job, your curiosity tends to dip. Taking a chance on someone without experience and training them can help motivate them to remain passionate and loyal to your organization. New employees without experience are usually eager to learn and impress if only to affirm your decision in hiring them. Experienced employees will probably tell you how they will accomplish the job in the same guaranteed approach, without expressing interest in learning what makes your company unique. Candidates who have been in the industry for years sometimes tend to be the least creative, especially if you're looking for someone who can rethink and improve upon an idea or a function.
On the other hand, an entirely new candidate in your industry has innate curiosity, positivity, and passion. Along with the feeling of accomplishment, these traits will rub off on other employees, which might end up positively impacting your organization's productivity.
4. They're the Future: Bringing in a new candidate with no prior experience, while challenging, can help foster innovative ideas. You get the opportunity to train them to fill the role the way you want it to be. Additionally, watching your new hire transform right before your eyes into a full-fledged professional is both rewarding and inspiring.
5. They Bring Diversity: Diversity and inclusion are vital in any organization. A diverse workplace yields higher revenue growth as well as increased employee retention. A diverse team improves morale and allows for exchanging ideas from different demographics, leading to out-of-the-box solutions.
Find the Right Applicant With the Right Recruitment Solution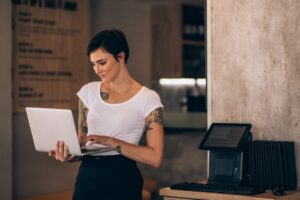 Hiring young talent is not only refreshing to your organization, but it's also an opportunity for growth and better ideas. You will develop a positive company culture of inclusion, challenge your thinking, and open pathways to innovative ideas, which might be the best thing you ever do.
This hiring process can be difficult, but not with Sprockets. To ensure you hire the right candidate, Sprockets offers personality tests for the interview process to ensure you find the right candidate. Our sophisticated solution combines technology and psychology to find applicants with a similar mental makeup as your current top-performing employees, ultimately reducing costly turnover. Schedule a brief demo today to see it in action!