Business managers and human resource professionals must fully understand the effects of employee turnover. It disrupts scheduling practices, causes productivity slips, hurts company morale, wastes valuable time, and costs money.
However, one of the most significant consequences is the negative impact employee turnover has on customer service. The loss of long-term, top-performing employees means the loss of leadership, institutional knowledge, and rapport with customers. Experienced and seasoned employees, who understand the needs of customers, are in a better position to serve them.
The Effects of Employee Turnover on Customers
They Feel Less Valued
Businesses of all sizes should understand how employee turnover affects the customer experience. Whether it's greeting them by name or knowing their favorite order, customers feel valued when employees understand them and their preferences. However, they can easily feel undervalued or unappreciated if there are always new employees at your location who lack the information or time to go above and beyond like this.
They Get Impatient
Employee turnover can lead to a loss of efficiency and productivity. New employees need time to understand a company's business policies and procedures, how to solve problems, and meet expectations. Customer satisfaction depends on fast and friendly customer service, and it can be compromised by errors, repeated questions, or delays.
They Don't Return
Repeat customers can significantly increase the ROI and reputation of your business. They provide you with consistent income and become loyal supporters, recommending your company to several other potential consumers. However, employee turnover can damage customer loyalty and even prevent people from becoming repeat visitors. A customer who receives poor service due to negative workplace culture or overloaded employees resulted from turnover might never come back to your store after an initial purchase.
How to Improve Retention and Customer Satisfaction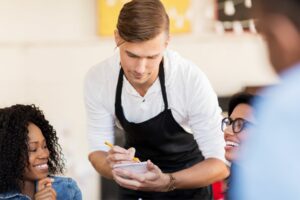 It's crucial to hire the ideal applicants to mitigate the negative effects of employee turnover. Many successful businesses use pre-employment assessments to screen applicants and make the right hiring decisions.
That's where Sprockets comes into the equation. Our AI-powered hiring solution predicts an applicant's likelihood to succeed and stay long-term based on the success profile of your current top-performing employees. Numerous franchisees across a variety of industries have reduced costly turnover with Sprockets. You could be next!