Home Health providers are no strangers to working in the face of acute outbreaks. Providers previously showed their ability to protect patients during the SARS outbreak in 2003 and again during the H1N1 pandemic in 2009. According to industry experts, home health providers should be prepared for an influx of patients due to COVID-19.
Now is one of those times where the industry, its leaders, and their staff are truly being tested. With that in mind, our team spoke with some of our home care clients about how they are handling staffing during this trying time. Our hope is these insights help owners and managers strategize for how to handle an influx of patients as well as people applying to be caregivers.
**These insights have come from conversations with owners of Home Instead, Visiting Angels, Right At Home and other home health brands nationwide.**
"We lost a few of our caregivers one day, and the next we saw 100s of new caregiver applicants. We are needing to be agile when it comes to hiring."
BrightStar Care Operator in California
Be prepared to over-staff
Just about every owner I spoke with is increasing their hiring in preparation for some subset of their staff getting sick, needing to be out of work, or deciding they are not comfortable seeing patients. Also, with kids staying home from school, many of their caregivers are looking to reduce or rearrange shifts in order to accommodate the new normal.
Our clients are taking a page from other industries that ramp staffing during the holidays and bringing on applicants under the agreement that they are temporary for the foreseeable future. One tactic they are using is messaging all previous applicants and asking them to reapply. Previously, our team has found that 32% of previous applicants will reapply through the Sprockets platform when prompted.
Handling an influx of applicants
As other industries dependent on the hourly workforce scale down their staff, Home Health care locations are seeing an influx of applicants. Not all of our clients need this many staff members, but don't want to miss out on what they are calling "an unfortunate opportunity". When asked to explain, they helped me understand that they don't want to miss out on quality applicants. Sourcing is not always easy in Home Health, so they want to make sure they don't pass on an applicant that could be a great hire in the future.
What we found is these locations are still sending applicants through the Sprockets system to be scored and archived for future hiring needs. The prevailing thought is that when they need to potentially over-staff, or a staff member gets sick, they will have a group of pre-qualified applicants to call.
Who's suited to provide patient care?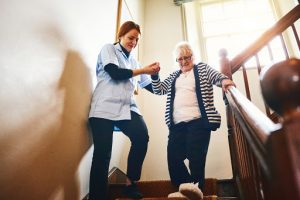 Asking a caregiver to go into someone's home in the face of a pandemic can be just as unnerving for that person and it is for the patient that is allowing them into their home. What our clients have found is that a certain subset of their staff is not comfortable providing care during this time period.
With that said, other caregivers don't waiver. This all comes down to the personality of the individual. What we have started to advise our clients to do, is understand the personality profile of the caregivers that are still willing to work and compare the influx of new applicants to those individuals. Home health owners are using Sprockets to help them isolate which applicants have the right mental makeup for this type of work in the climate of COVID-19.
Making the difficult choice
While most of the owners I spoke with are positive about how to handle staffing, some are worried about how to keep their best staff members should they need to suspend operations. Responses ranged from making choices based on past performance to simply instituting a last-one-in, first-one-out policy.
Of course, the advice our customer service team provided was to add objective data to the mix. By knowing who your top performers are, regardless of tenure, you have a better understanding of who is working well for your location.
Patient care and hiring will continue…
Our clients feel prepared to handle the trying times that COVID-19 has brought. They know they will continue to need quality caregivers and that hiring will remain as constant in their business as demand for in-home care. Again, our hope is the lessons our clients have taught us will be helpful to you and your business.