Some people have always wanted to start a business, but they fear going through the daunting process of starting from scratch with an independent company. As a result, they set their eyes on a franchise opportunity with relatively low entry costs and helpful franchisors. They carefully line up their finances and prepare to hire a team of employees.
However, running a franchise unit requires you to consider a variety of factors to ensure success. Although it is crucial to abide by your franchisor's conditions, there are several common mistakes people make with franchises. Don't worry, though, because we're here to help you sidestep these pitfalls.
1. Failure to Fully Understand the Franchise Business
You probably know what people say about those who assume. Many aspiring business owners assume they know everything concerning their chosen franchise and overlook important details. They fail to inquire with their franchisor about topics such as business plans and recommended hiring tools. As a result, they limit their success.
2. Failure to Use Your Franchisor's Resources
Franchisors often have resources that can be helpful to you if you meet the requirements of their franchise. For instance, they have detailed information about particular locations, and they understand how their business has performed in different areas to help you select the ideal spot. However, many people rely too much on their own information-gathering efforts when opening a new franchise location. This can lead to you getting incorrect data about the market you're venturing into.
3. Failure to Negotiate Leases
The lease terms of your intended location might be complicated. Many landlords have leases that are only favorable to them. You might fail to negotiate better lease terms that can favor your business more. In many cases, people end up signing lease agreements with hidden charges or those that require you to pay rent based on revenue. This mistake eventually becomes too costly, limiting your ability to sustain the business.
4. Failure to Analyze Competitors
It's crucial to do a comprehensive analysis of your competitors to have a viable business plan and be successful. Take note of other companies selling similar products and think about how you can set yourself apart (while following your franchisor's guidelines, of course). Simply setting up a business in an area with stiff competition doesn't automatically mean yours will fail, though. Just make sure you do the proper research ahead of time.
5. Failure to Consider Your Target Demographic
Another common mistake with franchises is that owners don't keep their potential customers top-of-mind when planning. Setting up a business in an area where people show no interest in your products is one of the worst things that can happen to your franchise. Take the time to conduct an in-depth analysis of your target clients in the area to understand their preferences.
6. Failure to Research Local Regulations
Opening a new franchise location requires you to agree to specific local rules and regulations, including tax and federal license obligations put forth by the area's municipality council. These laws oversee the franchise's registration and administrations, sales and offers, and the relationship between the franchisee and the franchisor. Conduct comprehensive research on these legal requirements. Be wary of high tax burdens and other expenses associated with owning and running a business in the area.
7. Failure to Contact Nearby Franchisees
Contacting other franchisees who have similar franchises in your target area is crucial. They can give you firsthand information detailing what they have experienced. You can ask them to give an honest opinion of what they think about the location to make sure you make the correct choice and plan properly.
8. Failure to Hire the Right Employees for Your Team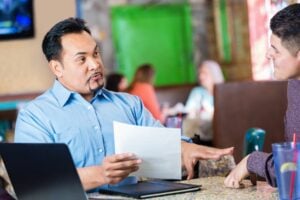 Last but not least, you'll need an effective team to make your business operate effectively. In today's day and age, more and more franchise owners and HR professionals are looking toward technology to do the heavy lifting for them. Consider implementing Sprockets' sophisticated solution to hiring. It's an easy-to-use platform that utilizes artificial intelligence to determine the best applicants for your business within a matter of minutes. It's not magic — it's logic.
Schedule a demo today to learn more about the Sprockets solution!