It might seem daunting to develop a new employee engagement plan from scratch, but it's a crucial step to achieving success with any business. The benefits, alone, should motivate you to get together with your leadership team and brainstorm some ideas. Employees who feel more connected with their team members and the workplace can be healthier, happier, and more productive!
While it's challenging to develop a custom employee engagement plan for your business, it makes a huge difference when you start with the right workers. Sprockets helps you build teams that mesh and work well together by revealing the common thread between top employees and incoming applicants. Schedule a demo today!
What Is Employee Engagement?
Simply put, employee engagement refers to the level of dedication and commitment that someone feels in relation to their workplace. There are various strategies to increase employee engagement among team members, all of which you should consider when creating your plan. After all, every business owner wants workers who sincerely care about their work and contribute their fair share of effort toward achieving company goals.
A Guide to Developing an Employee Engagement Plan
Recruitment
First of all, ensure that you highlight the company's mission and core values in job postings that follow best practices for recruitment. By clearly outlining the type of environment a future employee would experience, you will attract more like-minded people to apply. Plus, it weeds out those who will not be a good fit – before it's too late.
Example: Sprockets is a software-as-a-service (SaaS) company that values innovation, sustainability, and individual growth. Our employees are driven by new ideas, are compassionate, and challenge traditional values to bring about positive change.
Onboarding
Outlining the onboarding process, beyond filling out paperwork and going over where to find the fire exits, is crucial to adding a new employee to an established team.
Example: New marketing employees have weekly meetings with their manager to discuss personal development opportunities and any questions, comments, or concerns with workload or environment. During the first week of employment, the marketing team will go out to lunch with the new employee. The marketing team will have quarterly outings to encourage camaraderie and transparency between departments.
Goal Setting
Outlining goals for a position gives an employee a sense of purpose. Tying their goals directly to the company's goals and values is a way to effectively display the impact of their work and why they are essential to the company.
Example: The marketing coordinator is responsible for creating content and emails to fuel the sales team with leads. With a company goal of 100 new customers in Q2, the marketing team will need to generate 1,000 leads.
Communication From Leadership
Planning quarterly staff meetings with employees from every department and level is an excellent way to show transparency and build engagement. When employees see the bigger picture outside of their daily tasks, it gives them a greater sense of purpose.
Example: You're invited to our quarterly meeting! We will share an overview of our company goals and accomplishments for the past quarter as well as introduce plans for the upcoming quarter.
Recognition Programs
Employee recognition can significantly increase employee engagement. From giving someone a shout-out to submitting a nomination for a company-wide meeting, it always helps to recognize hard work. Employees will return the favor with even more great work and motivation.
Example: We will recognize one or more hard-working employees at each weekly meeting for their contribution. In the monthly newsletter, directors from each department will submit the name of an employee who has gone above and beyond in order to reach goals. Employees also get the opportunity to nominate their coworkers for recognition in one of three categories: innovation, team building, or going above and beyond. Winners will receive $50 gift cards.
Career Growth and Development
Whether someone has been with the company for 15 years or recently joined right out of college, all employees can benefit from personal development in the workplace. While not everyone will want to partake, those who do will appreciate it and likely become more engaged. Consider these strategies to improve employee engagement and reduce employee turnover:
Lunch-and-learns with a relevant speaker for specific departments

One-on-one coaching for new tools and technology

Matching new workers with an established employee as a go-to mentor

Setting aside time to discuss specific skills they'd like to learn
Performance Reviews
Did you know that 43% of highly engaged employees get feedback on their work once or more per week? Receiving feedback on work instills a sense of trust in employees. It shows that their work is being reviewed and appreciated. The other significant factor here is that engagement drops after an employee's first year at an organization. By having set performance reviews, employees realize that leaders are still paying attention to their work.
Example: Schedule weekly check-ins and annual performance reviews. (An annual review should not be the first time that an employee hears a piece of feedback.)
Build the Best Team From the Start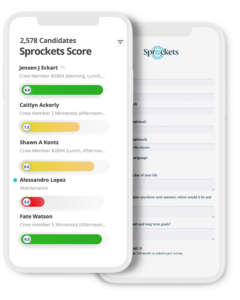 It's crucial to hire applicants who will mesh well, succeed, and stay long-term, ultimately making it much easier to maintain high employee engagement. It makes an immense difference in workplace culture, too.
That's where Sprockets comes into play. Our AI-powered solution creates a unique success profile for your business based on the mental makeup of your best employees. Then, incoming applicants are matched against this benchmark to ensure you hire the best candidates every time with pinpoint precision. (The average Sprockets user reduces costly annual employee turnover by 22%!)
Schedule a brief demo today to improve employee retention and engagement.