If you want to get out of the nine-to-five rat race, become your own boss, and you have some seed investment money set aside, your best bet might be venturing into franchising opportunities. Let's dig into it and see how a franchisee's return on investment can be maximized.
Kick-Start the ROI of Your New Franchise Venture
Choose the Ideal Franchise
Once you decide your path is with a franchise, you'll need to choose the right franchise brand for you. There are numerous franchises out there, so it is a big undertaking to choose which ones offer the most profitable opportunities. Of course, saying this is easy. Making the decision is not. There are several considerations before you find your match made in heaven. 
Conduct extensive research by completing these tasks prior to your decision:
Reach out to various franchisors for information

Talk to other franchisees about their experiences

Consider your initial finances

Research your intended location
Build a Business Plan
Preparation is essential if you want to maximize the ROI of your new business venture. While many franchisors provide new franchisees with proven business plans, you might be left to your own devices with certain companies. Don't worry, though. Simply view our blog on how to build a business plan for a new franchise location. It features a step-by-step walkthrough to help you get started on the right foot.
Track Performance
You won't be able to improve the ROI of your franchise business if you don't track performance metrics. Set up a list of business goals and key performance indicators (KPIs) to keep long-term goals in mind while still focusing on the day-to-day operations that drive success. Note: always make sure you set measurable goals rather than abstract ones that are difficult to track.
Then, set aside time monthly, quarterly, or annually to identify areas that need improvement. Find out what went wrong, make a plan for how to get better, then put your plan into action. With hard work and little luck, you'll stay motivated, surpass your goals, and be able to continuously set the bar higher.
Hire Applicants Who Will Drive Success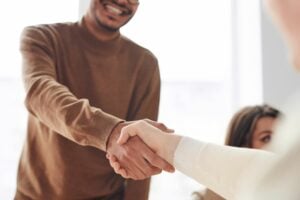 Did you know that employee turnover can cost employers upwards of $5,000? This can drastically reduce the ROI of your franchise when you think about how many employees you might lose over the course of a year. Not only do you lose productivity, but you also need to spend time and money recruiting, screening, and training the replacement employees.
Avoid costly turnover with Sprockets' sophisticated solution to hiring! We combine natural language, artificial intelligence, and over 80 years of experience to find applicants who are the precise fit for your needs — and are likely to stay long-term. It might seem like magic, but it's not. It's logic.