Thousands of seasonal staff members are hired each year during the holidays. These seasonal employees may be at a business for two weeks or up to two months. No matter the length of employment, some of them will be identified as top-notch workers. In order to keep having great seasonal workers, take some time now to prepare properly. Let's review what you need to do to prepare for the seasonal hiring process and how to set yourself up for a successful, productive holiday season.
5 Tips for Hiring Seasonal Employees
1. Assess Your Needs
The first thing to do is reflect on the past seasons when you needed extra help. Consider the strategies you used and how effective they were. Think about the challenges you faced as well as the success you accomplished. It will be helpful to analyze efforts in the previous couple of years, if possible. That way, you can get an idea of how many seasonal employees you must hire.  
2. Identify Who You Want to Return
As you monitor your seasonal staff members throughout the holidays, take notes. Are they consistently punctual? Do they help customers with a positive attitude? Have you received any complaints about them? (When thinking of which seasonal employees you'd like to return, remember that you should make it known before they leave!)
3. Start Early
Aim to get the best seasonal hires before your competitors snatch them up. This means that you have to start hiring early. Give yourself a hiring window of at least two to three months. The following are some of the things you can do during this time period: 
Create Optimized Job Descriptions:

The focus and details of the

job description

should be similar to that of year-round employees. Include the total period you need each seasonal employee for and whether there is a chance for their position to be permanent.   

Get Creative With Seasonal Hiring Strategies:

Consider offering referral incentives to your current employees and customers. Or, reach out to previous seasonal staff members to find out if they are still interested this year.

Conduct Effective Interviews:

Just because you are hiring seasonal employees does not mean you should overlook the

interview process

. Otherwise, you could miss out on selecting candidates who have the best skills and match your organization's culture.

Screen Your Applicants:

Examine your candidates carefully by thoroughly checking their resumes, contacting their references, and, if possible, conducting

background checks

. This ensures that you don't end up with bigger issues after hiring them.
4. Conduct a Positive Onboarding Process
You should set clear expectations to ensure that your seasonal staff knows what is expected of them. Make sure that you also clarify that the position is temporary so that they don't get disgruntled later on. Additionally, train and mentor the seasonal staff properly and give them time to settle in to be able to work efficiently when the rush hits. This ensures that you do not become disappointed when you need them the most.
5. Conduct Exit Interviews
At the end of the holiday season, be sure to conduct exit interviews (or online surveys) with all seasonal employees. This exit interview should help you understand how to attract and retain other employees in the future. The following list of questions is a good place to start:
How did you hear about this job opening?

Why were you interested in this job?

What was your favorite part of the job?

Was there anything you wish you could change about the position?

Do you have any feedback for management?

Are you interested in returning next year?
The answers to these questions should give you the information you need to make smarter hiring decisions. If the majority of people heard about the job opening through a social media post, try sponsoring posts next year to reach more people. When candidates tell you what they liked most about the job, be sure to emphasize that information in the job description! It's important to keep in mind that getting information is only helpful if you decide to take action based on it.
Discover the Ideal Applicants Before Interviewing Them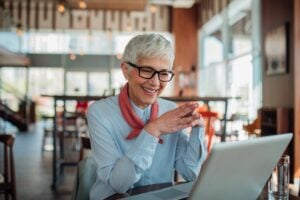 You have enough to worry about without having to dedicate time to the tedious hiring process. Let Sprockets handle the heavy lifting with our AI-powered hiring solution. We offer free job postings to augment sourcing as well as a sophisticated applicant matching system that reveals who will perform like your top employees. Plus, you can get alerts when an ideal match is found! The list goes on, but you don't have to take our word for it. Simply see what all of our happy customers have to say!
Schedule a free demo now to start hiring the best seasonal employees for the holidays.