How does a dorm-room project evolve into a rapidly growing tech startup that's changing the way people think about hiring? The team behind Scribble, a project launched by the South Carolina Department of Commerce, sat down with AJ Richichi to find out. Check out the interview below to discover the story behind Sprockets and its innovative solution. You'll meet our CEO and hear his thoughts on the current state of hiring, artificial intelligence, entrepreneurship, and more.
AJ Richichi: Creating a More Effective, Equitable Hiring Process Through Artificial Intelligence
How Hiring Is Flawed
Change isn't easy, especially when it comes to changing a process that businesses have trusted for years, but it's necessary if we want to fix a broken system. The traditional hiring process is biased, time-consuming, and ineffective. Plus, companies are struggling to maintain staffing levels and lose thousands of dollars each year due to high employee turnover. AJ Richichi helps people solve all of these issues using the Sprockets platform.
As Richichi mentions in the interview, "White-sounding names get 50% more callbacks than non-white-sounding names. The average general manager will ask between seven and nine illegal interview questions every single phone call. We want to give everyone a fair shake, regardless of where they're from, where they went to college, and what they look like, to get employment."
Richichi's Innovative Solution
Sprockets users don't need to worry about staffing issues, wasted interview time, or potential bias. Our AI-powered platform reveals which applicants will succeed like a location's top performers using a three-question survey and a simple scoring system. It empowers business owners and operators to hire the best workers every time without even looking at a resume. Plus, it's proven to boost employee retention and reduce the amount of time spent on the hiring process so people can focus on daily operations.
Eliminate Bias, Save Time, and Reduce Employee Turnover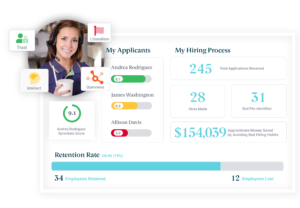 A lot has changed since Richichi's days in the dorm room, but one thing remains the same: his passion for matching people to possibilities. Sprockets is now a trusted hiring solution for top brands like Domino's and Taco Bell. Plus, it integrates seamlessly with other popular HR tools, such as McHire and TalentReef.
"We have been empowered to more quickly focus on the candidates that closely match our hiring profile, generating a higher success rate of new hires in our system and eliminating wasted interview time. We feel great about our progress, and the impact was nearly immediate."
– Bob Fenzel, VP of Wingstop
Schedule a free demo today to predict applicant success with Sprockets, ultimately reducing costly employee turnover!