Are you ready to launch a new franchise location? Between now and then, you must overcome many obstacles. Luckily, in this day and age, the answers are easier to find than ever. By checking out the following tips, you'll have a leg up on the competition. That way, finding success with your franchise business will be easier than ever.
7 of the Best Tips for New Franchisees
Let's look at a few of the most common traits of successful franchise owners. Of course, everyone's situation will be different. Nevertheless, by comparing notes, you'll notice there are some core commonalities. When you are ready to start a new endeavor, doing the research is more than worthwhile. By putting in the time, you'll reduce the odds against you. Then, success is just a matter of commitment. At that point, it might as well be guaranteed.
1. Ensure You Have the Starting Capital
Without the money, you can't launch anything. Therefore, ensure you have the starting capital. Otherwise, your time would be spent better on other ventures. For example, suppose you have limited funding. If that is the case, we suggest you pursue finance partners rather than customers.
2. Choose the Optimal Location
Even though your business has a well-known brand name under a franchise, that doesn't mean it can succeed anywhere. Any experienced business owner knows that location is a significant factor in success. In certain areas, poorly ran enterprises might prosper. However, in other locations, even the most efficient endeavors might fail. By researching different locations, you can find one that fits you best.
3. Network With Other Successful Franchisees
Who said that you could not learn from other people? Of course, not everyone can give you good advice. However, by speaking with successful franchisees, you can find out what they have learned. Over their career, they've made many mistakes. Since you can ask them what they learned, you won't have to go down the same road they did. That way, you can skip over some of the bumpier sections of the journey.
4. Continuously Seek New Information
You can compare yourself to other people all day long. However, you would get better results if you were to look at people who were successful. Generally speaking, they are all fast learners. Because they can pick up on things quickly, they can also adapt rapidly. In the business world, that is essential. By adapting to new circumstances, their companies thrive while others fail. If you'd like to follow in their footsteps, then it would be best if you were to emulate that trait.
5. Grow Your Business
Both you and your business should always be growing. Every year, set new goals. That way, you can have something to use while you measure your progress. By doing so, you'll have a reason to stay motivated throughout the year. Unfortunately, many entrepreneurs fall off track after they get started. However, a small bump in the road doesn't mean the entire journey must be derailed. Instead, use this as an opportunity to find out what went wrong and improve. Then, get back at it. Otherwise, you'll have to learn the old adage: Failure is only permanent when you quit trying.
6. Maintain a Work-Life Balance
Besides your new business, you must also focus your time at home. At its core, your home life helps motivate you in the morning. When you wake up, rushing to work on that new project might not be exciting. However, if you have a balanced life, then working won't be so aversive. Instead, you will be ready to seize the day each morning. By living a balanced lifestyle, your efforts will be rewarded when you focus on work.
7. Build a Strong Team of Employees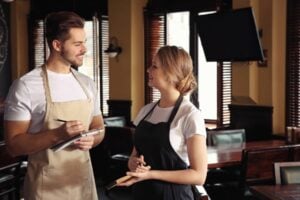 While you are central to your company's success, other people make your business run. As you are building your crew, evaluate each individual for their talents. You should only choose applicants who will thrive in the workplace and mesh well with the rest of your team members. The stronger you can make your team, the more successful you can make your business.
Luckily, there's a convenient tool that makes hiring the ideal applicants a breeze. It's Sprockets, an AI-powered solution that quickly and effectively creates a "fit score" for your applicants, empowering you to see who will drive success and stay long-term. It's not magic — it's logic.
Schedule your demo today to learn all about how Sprockets helps you hire the right applicants and reduce costly turnover!