If you think the business world is hectic, overwhelming, and confusing, you are not entirely wrong. It is probably worse when you are inexperienced about your venture. The franchise venture is rapidly becoming more popular, and it is easy to see why.
Becoming a new franchisee eliminates the costly expenses that come with starting your own business from scratch. For example, you will not need to generate a business model or patent it for trademarks. Other perks include advertising and product promotion, staff training, and support services.
Learn How to Become a New Franchisee
But how much do you know about becoming a new franchisee? Restaurants are quite popular in the franchise industry, but you can also venture into other industries. You could opt into real estate, the education sector, health and fitness, pet care, just to name a few. 
Is a Franchise Enterprise Right for Me?
The purpose of getting into entrepreneurship is different for each person, and so is the capital investment. If you are not so excited about taking business risks, franchises offer a decent safety net. However, there are several factors at play, and success is not a guarantee. 
Here are some things you should consider before you start a franchise process:
Take time and weigh the pros and cons of buying a franchise location. Does it serve your purposes in the way you intended? What are the cons to such a goal, and how will it affect your finances?

The markets are a decent guide on where to put your money, but it is highly advisable to settle into something that matches your skills, personality, and goals. Money is a huge motivator, but interest and skills are what get you through the tough times.

In addition, think about the future. Is this what you want to be doing ten years from now?
Understanding the Franchise Process
When all is said, how do you get the job done? What is the process of becoming a new franchisee? What are the new franchisee requirements?
We will break down the process into seven simple steps:
Step 1: Research Franchise Concepts
As we had mentioned earlier, there are many more concepts you can look into that are not restaurants. The International Franchise Association has over a thousand registered franchise businesses you can look into. Alternatively, you can look up other opportunities at FranchisesForSale.com. Talking to a professional will help clear the air in terms of what you want.
This research is instrumental in finding business opportunities that fit your budget, geographical specifications, and skills. There are some websites that will help you narrow down your options based on these factors and other preferences. Alternatively, you can talk to a professional about it.
Step 2: Send an Application/Request for Consideration
Have you found a franchise concept that sets your soul on fire? Do you have several options you are seriously considering? Submit your request for information. You will hear back from the company within a week or so, either via phone or email. They will also link you to a representative.
Step 3: Consider Legal Obligations
Now you are getting more invested with your company of interest, so it is time to take it to the next level. At this stage, you are learning in-depth information about every aspect of the industry. This will include the company, the business model, and the roles of both the franchisee and the franchisor. This information is delivered in the Franchise Disclosure Document-FDD. Go through the document with your lawyer and accountant.
This is a legal requirement by the Federal Trade Commission, and it serves to elaborate on the relationship between you and the franchisor, including required fees and commitments. The FDD can be pretty detailed, but ensure you read through it all. Start with what interests you. The document will also guide you on your obligations, and it dictates what the company will and will not offer.
Step 4: Training and Support
This might be the best thing about the franchise concept — all the heavy lifting is someone else's obligation. The franchisor has researched the market, developed the concept, and created the product and service. In addition, the franchisor gets to share their trading strategies, training, and marketing programs with you. Of course, this often comes at a fee. 
At this stage, your franchisor should outline in detail the support you should expect in terms of training, marketing, and operations. Depending on the company you are working with, you might have to travel for training programs while others will come to you instead. Also, some companies only offer online support to their franchisees.
The advertising and marketing strategies will vary significantly between franchisors, and some will offer online or phone support only. At this stage, you decide how much support you're comfortable with and whether you can survive with what's on offer.
Step 5: Review of the Franchise Disclosure
If everything is going smoothly, then it's time to take it to the next level. You will have a serious conversation with the representative to review the FDD and territory issues.
Review every section of the document and make sure to ask any questions. A franchise will cost you time and money, so don't be hasty. To be on the safe side, have an accountant look through the financial statements to estimate the accuracy of projected returns. 
Another important person you should see at this stage is a franchise lawyer. As a legally binding document, you want to ensure that your rights as an individual and business person are not tampered with or diminished. In addition, a lawyer will be able to identify any unfavorable clauses that might hurt you in the long run.
Step 6: Due Diligence
At this point, you understand the industry like the back of your hand. However, restrain from making any rushed decisions. Talk to different people at a corporate level and the other franchisees. Ask about the company and whether their expectations have panned out. Ask about any regrets or wrong decisions they think they have made. If your franchisor is hesitant to share a complete list of their franchisees, then perhaps it is better to take your business elsewhere.
Step 7: Finalize Plans
If everything has gone according to plan, then congratulations! You are at the final step of the franchise process. At this stage, you have completed the evaluation, and you are ready to sign the Franchise Agreement. Ensure your finances are in order, including management service fees and cuts to the marketing and advertising funds. Do you have enough cash to sustain your franchise until you start making profits? Also, you get to meet with executives and heads of departments who will be your close associates as you start on your new franchise business.
As an entrepreneur, it is crucial to create a business plan for your franchise. Even though it is not a mandatory accessory, it is an important tool that helps to assess your business. How is the progress of your franchise in comparison to your goals? Your accountant or franchisor could help you develop one, but ensure you stay in the loop and are aware of the figures. Review your business plans regularly.
Jumpstart Your Business With Sprockets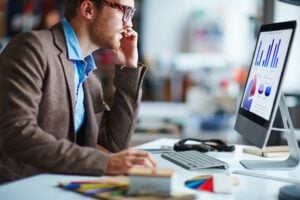 Are you ready to achieve success as a new franchisee? We're ready to help you make it happen! The Sprockets platform empowers you to hire employees that are the precise fit for your needs. It combines natural language and artificial intelligence to determine, with absolute accuracy, the right new hire for your team (in a matter of minutes!)