One of the best steps toward reducing employee turnover is to understand precisely what causes it. Some businesses, especially franchises in the QSR and home health care industries, experience particularly high turnover rates. The factors can vary, but we created a quick list of common reasons why employees leave their companies to help you improve retention.
6 Reasons Why Employees Leave Companies
You might think that low income is one of the leading causes of employee turnover. However, research has revealed that only 12% of workers quit their jobs because of money. Here are some of the top reasons why employees leave their companies:
1. Lack of Flexible Work Arrangements
Today, most employees want more flexible schedules. They no longer search for a typical 9:00 to 5:00 job, which requires them to stay in the office daily. They often choose to work for an organization that allows them to work remotely at least once per week. Our increasingly digital work environment gives us many reasons why we should enable our employees to work remotely.
If a company starts to offer a more lenient schedule, applicants might choose it over competitors. About 37% of workers would leave their companies for another organization that allows them to work remotely. Correspondingly, 82% would become more loyal to their employers if given a more flexible work schedule.
2. Lack of Appreciation
An employer's failure to appreciate their workers is one of the significant causes of employee turnover. Employees want their performance noticed, especially when they put in extra effort or work additional hours. However, many employees feel undervalued or underappreciated, and 66% say they would leave their job due to lack of appreciation.
This number is high in millennial workers, as eight out of ten say they would quit their jobs if their present organizations do not appreciate them. A simple "great job" or "thank you" can help employees understand that managers value their efforts and contribute to improved retention.
3. Lack of Progress
Employees understand progression in different ways. For example, some may feel that they want a promotion or salary increase to progress, while others may define progress as acquiring new skills. It does not matter what they would like to work on, who they work with, or how the organization compensates them. When managers fail to give employees room to grow, they get tempted to search for new opportunities and leave companies. Employers should create career and educational advancement opportunities for staff.
4. Poor Workplace Culture
Overall workplace culture also determines employees' length of stay. Corporate culture begins at the top, and it is one of the essential elements that contribute to employee retention. Although companies have different cultures, always ensure it gives employees a sense of belonging.
Workers appreciate an environment with transparent communication, clear direction, and respectable and approachable managers. An unwelcoming organizational culture is one of the top reasons for employee turnover. 47% of individuals who actively look for new jobs do so due to bad corporate culture.
5. Excessive Workload
Although employers might want to reward high achievers with more tasks, they must be careful when doing so. When employees get overwhelmed with their job's demands, they tend to leave for other organizations that provide more manageable workloads. Managers should ensure that their teams have manageable workloads. If you increase an employee's list of responsibilities, pair it with a promotion, salary increase, or other noticeable benefits.
6. Changes in Personal Life
A change in personal life is one of the reasons employees leave a company, but it's one that it's difficult to avoid as a manager. For example, a worker may relocate to a new country for themselves or family members. Additionally, changes in their health can cause an employee to quit their job or look for a more accommodating position. While you do not have control over changes in employees' personal lives, you can always support them in the workplace and through any major transitions.
Reduce Employee Turnover With Our AI-Powered Solution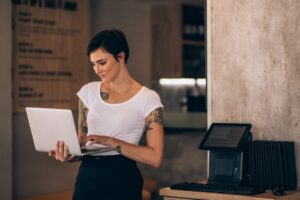 Although employees quit their jobs for various reasons, paying close attention to these factors can potentially help retain your best talent. And, when crew members inevitably leave, Sprockets makes it easy to find new workers that perform like your best employees.
Our sophisticated hiring solution combines artificial intelligence, natural language processing, and over 80 years of psychological research to predicts an applicant's likelihood to succeed and stay long-term. Building the best team, and saving time and money, is as simple as adding our brief survey to your recruiting process. Sprockets even has an easy-to-use platform and integrates with other major hiring tools!