The COVID-19 pandemic has resulted in many companies offering hiring bonuses to employees amidst the uncertain job market. The bonuses provide additional motivation to workers and set organizations apart from other businesses. Furthermore, hiring bonuses are a cost-effective method because they are a one-time cost, unlike salaries. The incentives can average around 20% of an employee's annual salary, but the figure varies from company to company.
Some of you might wonder, "What is a hiring bonus, and how can I get one?" Let's dive into the topic and show you a few of the businesses that have decided to offer sign-on bonuses to attract potential workers.
Here Are 9 Companies That Are Currently Offering Signing-Up Bonuses:
1. Amazon
It is the second-largest retailer after Walmart, employing approximately 1.2 million people. The pandemic led to a surge in online shopping, causing the company to hire more delivery and warehouse workers to keep up with the demand.
The current Amazon hiring bonuses are for new employees who pack and ship online orders. For example, some workers can get a $1,000 sign-on bonus and an additional $100 if they have received the COVID-19 vaccination. There are opportunities in several states, such as Kentucky, New Jersey, and Washington.
2. McDonald's
One of the world's most prominent fast-food service restaurants, serving approximately 69 million customers, is also offering hiring bonuses to new crew members. Since franchisees own many McDonald's locations, the incentives can vary significantly. In some cases, workers can receive a $500 sign-on bonus as well as a $50 incentive just for showing up for an interview!
3. Chipotle
Chipotle has introduced several incentives to attract applicants during the COVID-19 pandemic. One recent development is a $200 employee referral bonus for crew members and an additional $750 for an apprentice or general manager position. The increase in bonuses and wages is due to Chipotle's recent expansion plan, which seeks to fill 200 new locations with staff.
4. Christus Health
This non-profit organization with over 600 locations is offering opportunities for health workers in various specialties with sign-on bonuses of approximately $6,000 to $10,000. The incentives aim to increase their applicant pool during a time when health care workers are desperately needed in communities across the country and the world.
5. General Dynamics Information Technology
General Dynamics Information Technology offers opportunities for technicians and engineering specialists, and their new hiring bonus is approximately $10,000. They also offer an $8,000 bonus to current employees who refer a new employee. The jobs are widespread across various states in the country.
6. Bartlett Plumbing and Heating Company 
People can earn hiring bonuses for HVAC work, as well! Bartlett Plumbing and Heating Company has full-time openings for employees in Michigan with sign-on bonuses of $1,000 that are paid after 90 days of employment.
7. Expanding Horizons
Expanding Horizons is an adult foster care group that offers rehabilitation services to patients with mental illnesses and brain injuries. The company has several open roles with bonuses of $500 after working for three months and a 2% wage increase after six months.
8. Hilton Hotels
If you're looking for a sign-on bonus in the hospitality industry, then you're in luck. The Hilton group of hotels and resorts currently offers hiring incentives for various full and part-time positions, including front desk agents, housekeepers, overnight cleaners, and room attendants. Many of the positions offer hiring bonuses of between $300 to $1,500!
9. Continuum Behavioral Health
This organization provides services to people with learning and behavioral disabilities. It has an immediate need for board-certified behavior analysts, providing $5,000 signing bonuses to fill positions in various locations across the country. There are both full-time and part-time job openings in these areas. Continuum Behavioral health also offers competitive salaries and remuneration packages, offering flexible working schedules.
An Additional Solution for Employers During the Labor Crisis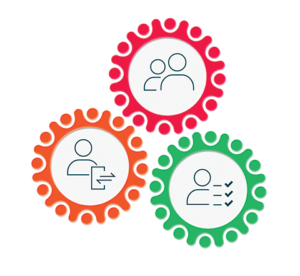 Are you a business owner or manager considering the possibility of offering hiring bonuses to attract new employees? It can be an attractive option for both you and job seekers, but it only provides part of the solution to the current labor crisis.
It's crucial to not only attract applicants, but also make sure that they are the ideal fit for your business. Otherwise, you risk costly employee turnover and having to go through the hiring process all over again. That's where Sprockets comes in. Our AI-powered platform has all the tools you need to increase applicant flow, screen candidates, and help you hire more employees like your top performers. We even offer free posting to top job boards and "Virtual Recruiters" who handle most of the work for you. It's not magic — it's logic.
Schedule a demo now to discover how Sprockets can solve your staffing problems and improve overall employee retention!